Image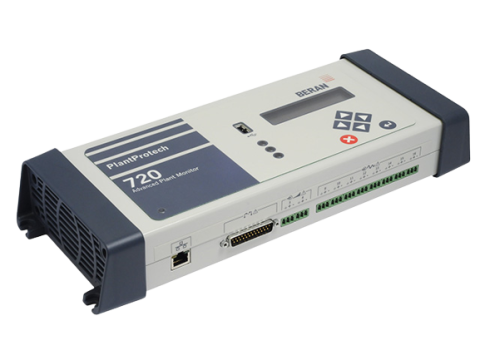 PlantProtech™ 720 Advanced Plant Monitor
The PlantProtech™ 720 Advanced Plant Monitor provides a powerful and versatile automated surveillance system for all of your strategic plant items where increased monitoring is required.
Automated data collection
Monitoring all types of machinery
Continuous monitoring of your machinery 24/7
Easy comparison of data with process parameters
Minimise machine failures, increase availability and reduce costs by reliably monitoring your machine health.
Designed for
Cooling water pumps
Emergency boiler feed pumps
Wind turbines
Hydro turbines
Cooling tower fans
Industrial gas turbines
Description
Easy installation, powerful data acquisition, and versatile displays make the PlantProtech™ 720 the perfect partner for your Condition Monitoring regime.
Key features
A cost-effective alternative to "walk-around" periodic monitoring solutions
Integrated within the Beran PlantProtech Condition Monitoring System
Routine surveillance of critical plant items
16 channels for vibration and process data
4-speed inputs
Autonomous internal data storage
Local display of real-time vibration levels via LCD display
Local alarm traffic light display and readout
Stand-alone and network operation
An open interface for implementation with other third-party applications
Data export via USB
Internal constant current transducer power supplies
Panel mount, surface mount or, DIN-rail mount installation options are available