Image

PlantProtech™ 768 Analyser
Flexible data acquisition - up to 4 x 8 vibration sensors. Recommended for small turbines, fans, and feed pumps.
Key features
Modular construction
19" rack mounting
Up to 32 dynamic vibration channels
Acceleration, velocity and displacement inputs
Up to 4 x 1/rev phase marker inputs
Links to Station DCS Systems
Description
The PlantProtech™ 768 Analyser is an optimised solution for smaller turbines such as those used in hydroelectric and gas-pumping installations. In addition, an alternative configuration utilising a multiplexed input option is ideal for auxiliary plant applications.
The PlantProtech™ 768 Analyser can monitor up to 4 tacho signals, 8 AC signals (32 multiplexed), 16 local DC channels (up to 256 remote), 8 digital channels, and has 8 alarm relay outputs. The multiplexed variant allows up to four non-critical plant items to be monitored cost-effectively.
Related products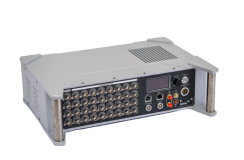 PlantProtech PROTOR Mobile
The PlantProtech PROTOR Mobile is a high-speed data acquisition and powerful diagnostic system for critical rotating machinery.
PlantProtech™ 720 Advanced Plant Monitor
A powerful and versatile automated surveillance system for all of your strategic plant items where increased monitoring is required.