National Full-Scale Aerodynamics Complex installs Beran PlantProtech™ Protection and Condition Monitoring System for critical rotating machinery monitoring
The National Full-Scale Aerodynamics Complex (NFAC), part of the Air Force Arnold Engineering Development Complex, located on the site of the NASA Ames Research Center at Moffett Field in Mountain View, California, is home to the two largest wind tunnels in the world. A high speed (up to ~300 kts) 40 ft by 80 ft (12 m by 24 m) wind tunnel circuit and a lower speed but larger 80 ft by 120 ft (24 m x 36 m) test section which is capable of testing a full-size Boeing 737 at velocities up to 100 knots.
Support from Helitune and Beran engineers, ensured that our testing capabilities were mission capable when required.
The NFAC facility includes two motor generator units that are used to start up and control six large fan motors. The motor generators operate up to speeds of 600 RPM.
There are six fans, each measuring 40 ft (12 m) in diameter, and now consisting of twelve large wood laminate blades. Each fan blade measures 12 ft (3.6 m) long, weighs more than 800 lbs (360 kg), and has been carefully crafted.
Image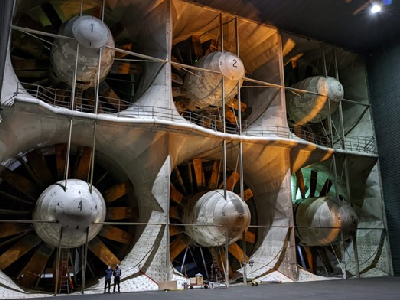 Due to the difficulty in manufacturing new blades, the fans require continuous monitoring in order to detect the onset of any changes in operation which may cause damage.
The fans are variable speed, and variable pitch and operate at speeds of up to 180 RPM – at full power, they move more than 60 tons of air per second and they consume up to 108 MW of power, supplied by the two motor generator units and supplemented by the local grid.
What was the problem?
The originally-installed vibration monitoring system had reached end-of-life and required replacement. National Aerospace Solutions LLC (NAS), which operate and maintains the NFAC facilities, on behalf of the U.S. Air Force's Arnold Engineering Development Complex, tendered for the supply of a replacement protection and condition monitoring system, which was required by NFAC engineers to automate safe shutdown of fans and motor generator units in the event of excessive vibrations.
Image
During operation, the fans within the wind tunnel are not accessible and need to be continuously monitored for safe operation. Vibration and temperature sensors are installed on all bearings, with an associated phase marker. Signals are wired back to a Central Control Room for monitoring, alarming, and controlling machine equipment safety. At the same time, NAS Engineers are required to perform assessments of machine conditions to ensure that any issues are identified, diagnosed, and resolved both safely and quickly.
As a result, a replacement fan drive health monitoring system was required, providing both protection and condition monitoring capabilities, along with the replacement of proximity probes and associated drivers for vibration, phase marker, and position monitoring.
The solution
To meet the requirements of NFAC's replacement fan drive health monitoring System, Helitune USA (based in Wood Dale, Illinois), working with UK sister company Beran, proposed to install and commission Beran's flagship product, the PlantProtech Protection and Condition Monitoring System (PCMS). This is Beran's latest generation of turnkey high reliability machinery protection systems with integrated condition monitoring functionality designed for critical plant. The Beran PCMS expands upon the company's proven condition monitoring solutions which are in use around the world for monitoring industrial machinery.
Image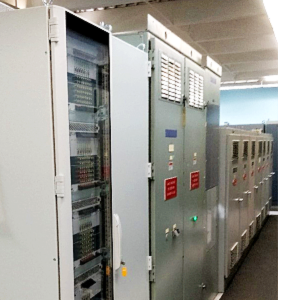 Vibration, speed, position, and temperature sensors are connected to the PCMS system. A prime requirement was the need to interface with the existing control and shutdown system. The PCMS is continuously monitoring machine health, allowing NAS engineers to review data both in real-time and perform analysis on historical data determining overall machine health and maintenance requirements.
The intuitive vibration analysis software – PlantProtech Vision – is complemented by a summary machine dashboard, customised to ensure real-time levels and alarm states are immediately available to engineers. The PCMS was originally supplied with the inclusion of on-site engineering support by Beran's highly experienced and qualified engineers. Due to the impact of the COVID-19 pandemic, on-site commissioning support was not possible; however, through excellent teamwork between NAS, Helitune, and Beran engineers, the system was successfully installed by NAS, with remote commissioning support being provided by Beran.
The results
NFAC now has a state-of-the-art machinery health monitoring system using Beran's high-reliability PCMS, integrated by Helitune out of Wood Dale, Illinois, providing protection and condition monitoring of the fan drive system.
The PCMS delivers advanced machine monitoring of the fan and blades, including fast and safe machine shut down in an emergency scenario, should it be required.
The Beran PlantProtech™ Vision application provides engineers with the tools they need to rapidly configure hardware, analyse data, share results, and identify problems. With the PCMS installed the Fan Drive System and Motor Generators will be continuously protected and monitored for many years to come.
Helitune and Beran technical support has been top-notch, especially when considering time zone variation between the US and UK and the current global constraints due to COVID-19.
Related products
Protection and Condition Monitoring System
Automated vibration trip system providing API670 compliant machinery protection with integrated condition monitoring functionality
PlantProtech™ Vision
Visualise, trend, and diagnose the health of your plant with our easy-to-use PlantProtech™ Vision application.