Image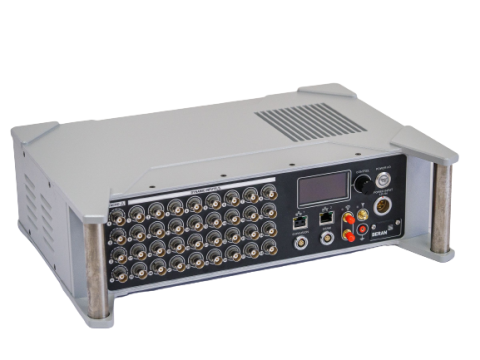 PlantProtech PROTOR Mobile
The PlantProtech PROTOR Mobile™ is a high-speed data acquisition and powerful diagnostic system for critical rotating machinery.
Key features
Up to 32 parallel dynamic and static channels, 4-speed signals
24-bit ADC resolution
Wifi and LAN connectivity
Remote 4G access
Link to plant historians, such as OSI Pi
Lightweight - less than 7kg
Description
The PlantProtech PROTOR Mobile™ is the fifth generation of a multi-channel, portable system from Beran and offers unrivaled capability in a compact form factor weighing less than 7kg with powerful diagnostic capability.
Designed for rotating machinery including, but not limited to
Steam turbines
Gas turbines
Hydro turbines
Feedwater pumps
Gearboxes
Machinery requiring continuous monitoring
Portable diagnostic capability
Providing a powerful vibration condition monitoring system for all your strategic plant items where both real-time and remote diagnostic monitoring is required.
Typical applications include
Plant commissioning
Return-to-service
Balancing
Troubleshooting
Unattended diagnostics
Summary specification
Up to 32 parallel dynamic and static channels, 4-speed signals
24-bit ADC resolution
Machine operating speeds from stopped (0rpm) to 50,000rpm
Dynamic channels support Acceleration, Velocity, Displacement, or Dynamic Pressure
Simultaneous acquisition of vibration and process data
Integral ICP support and Hi and Low pass filters
40kHz measurement bandwidth per channel
Multiple FFT line resolution, programmable FFT bands
Up to 16 harmonic orders magnitude and phase, sub-synchronous levels, intra-harmonic level, gap
Assignment of dynamic channels to multiple speed signals
RPM and Time-based acquisition control plus configurable event conditions
Real-time and historic displays include Time Domain, Synchronous Time Domain, FFT, Full Spectrum, Waterfall, Cascade, Orbit, Orders Text, Bode, Polar, Shaft Centre-Line
Overlay capabilities to display real-time run-up / run-down files with a historic baseline reference
Post-processing conversion between Acceleration, Velocity, and Displacement units
File export into CVS format
Interface to OSI Soft™ PI and third-party applications using OPC interface
Two high-speed GBit LAN ports
Remote 4G access
Lightweight - less than 7kg
Rugged case
Outline dimensions 390mm (W) x 120mm (H) x 290mm (D)
Input power, 24VDC via 95-240VAC, 45-65Hz (external)
Compatible software
PlantProtech™ Base Station
Central PC data store for all your PlantProtech™ Analyser historic data.
PlantProtech™ Vision
Visualise, trend, and diagnose the health of your plant with our easy-to-use PlantProtech™ Vision application.
Related products
PlantProtech™ 720 Advanced Plant Monitor
A powerful and versatile automated surveillance system for all of your strategic plant items where increased monitoring is required.
Accelerometer: BI-5011A 100mV/g General Purpose
Low-cost general purpose 100mV/g shear mode accelerometer.