Beran has been awarded ISO 45001:2018 certification, the new international standard for Occupational Safety and Health.
ISO 45001:2018 is a globally recognised occupational health and safety standard developed by the International Organisation of Standardisation (ISO).  It was developed to help businesses improve employee safety, reduce workplace risks and create safer working conditions.
With this certification, Beran continues to demonstrate that the processes implemented at our UK Torrington headquarters, and our onsite installation and commissioning activities meet the highest standards of safety management. 
Paul Howrihane, Group QHSE Manager at Beran said:
I am pleased that the Company has achieved ISO 45001 certification.  It underpins our commitment to our employees, stakeholders, and customers by continuously evaluating and improving our safety processes to ensure we maintain the highest standards. 

ISO 45001 certification means that our customers can have full confidence in the way their projects will be approached and managed, and our staff can see we are focused on maintaining a safe and healthy workplace.  It also aligns with our other key standards such as our ISO 9001 and AS9100 Quality Management System approvals.
Image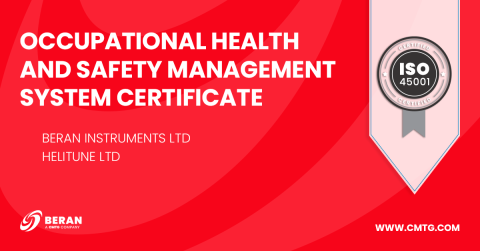 Tagged with: