We strive to make onboard Health and Usage Monitoring Systems (HUMS) more accessible to the wider helicopter community, including Search & Rescue (S&R), Emergency Medical Services (EMS), Police, and VIP helicopter applications. We are continually developing our technology to create improvements in IVHM capability associated with a reduction in system costs and installation impact, to satisfy operators' ever-increasing expectations. 
Helitune's latest Vehicle Health Monitoring solution (HT-VHM)
Developed with the support of the Technology Strategy Board (TSB), Helitune's latest Vehicle Health Monitoring solution (HT-VHM) provides innovation in three key areas:
HUMS system integration costs are traditionally high. HT-VHM incorporates Micro-Electro-Mechanical Systems (MEMS) sensor and GPS technology to enable flight conditions to be determined without the need for complex aircraft integration. Additionally, the integrated approach provides significant weight savings.
Conventional HUMS systems can take several minutes to collect data from all sensors and risk missing vital mechanical events. HT-VHM pioneers a new architecture that measures all sensor data in parallel utilising high-speed 24-bit technology. This time-saving reduces maintenance and operating costs, cuts carbon footprint, and improves aircraft availability.
Operators rely heavily on HUMS systems to maintain their fleets and require more than simple vibration data. RT-VHM addresses this problem by acquiring data continuously through an innovative technique that streams all vibration data to high-speed memory.
In-Flight Tuning System
In collaboration with ZF Luftfahrttechnik, Helitune have contributed to the development of an In-Flight Tuning (IFT) system for helicopter rotors. Vibration measurements are gathered continuously in-flight whilst RTB adjustments are calculated and sent to Smart Pitch Rods (SPR). The SPRs dynamically adjust the blade pitch, optimising the vibration level whether the helicopter is hovering or cruising at speed. Rigorous design and validation processes were applied to the systems development, including demonstration of safety for complex electronics in accordance with DO-254. The IFT system developed for the CH-53 platform is currently undergoing flight trials in Germany.
Image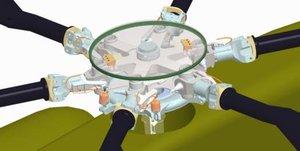 Continuous Vibration Monitoring / Rotor Track & Balance (CVM/RTB)
Jointly developed by SEA and Helitune under contract to AgustaWestland (AWHL) (Merlin IPT originated) CVM/RTB combines SEA's recording architecture and Helitune's RTB architecture on a common platform.
A CVM/RTB development unit has been fitted to a Royal Navy (RN) Merlin Mk1 aircraft at AgustaWestland and early results from the first flight trials have been very encouraging. The equipment includes a permanent fit camera (RT-TipTrak), provides facilities for structural vibration monitoring, RTB measurements, and RTB corrections.
Image