Image
Image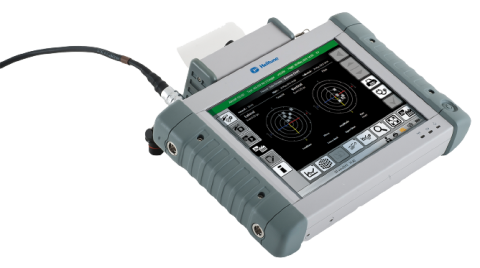 Image
Image

Image

Image
Rotortuner Flitepad
The Ultimate Rotortuner Controller
The latest standard in ruggedized tablet design for mobile aviation applications.
Description
Flitepad is a high-performance tablet that combines a full Microsoft® Windows Operating System, ruggedised design, and touch-screen functionality (glove compatible). Flitepad's primary function is to provide a next-generation user interface for Helitune's Rotortuner systems, including the RT-6, RT-2000, and the RT-5JS+. The product's universal design can be readily configured for other aviation and harsh environment applications.
Features and benefits
RTCA/DO-160G EMC and Environmental compliance
Fully ruggedised and sealed enclosure
Wide operating Temperature Range (-20C, +55C)
Compatible with RT-2000, RT-5JS+, and RT-6 Helitune products
High-performance processing
Future-proofed architecture with 10+ years of support
Fully integrates with Helitune RT-Vision
Touchscreen operation with gloved hands
Optional Modular Printer
Bright LCD sunlight-readable display
Directly compatible with aircraft +28V DC supply
Design overview
Flitepad delivers a seamless upgrade path for existing RT-2000 or RT-5JS+ operators and a powerful new platform for the latest-generation equipment, RT-6 & HT-VHM. The product is qualified to meet the stringent requirements of RTCA/DO-160G for EMC and Environmental compliance.
Helitune has worked with its military customers to develop a form factor that is suitable for use on a wide range of aircraft platforms, including attack helicopters where space is at a premium.
Human factors and ergonomic design considerations have resulted in a lightweight magnesium alloy case, with tactile grips and a touch screen user interface.
The advanced Intel® Atom processing architecture allows rapid calculation of Track & Balance results using Helitune's Minimum Flight Regime (MFR) algorithm.
Large solid-state disk capacity allows the hosting of a database that provides seamless integration with the RT-Vision Ground Station. Data can either be directly synchronised between Flitepad and RT-Vision, alternatively, the Flitepad database may be backed up onto the ruggedised USB stick and restored onto RT-Vision or copied to another Flitepad. The optional modular printer retains the unique Helitune Rotortuner capability to produce easy-to-read hardcopy printouts of adjustments when in-flight, reducing valuable maintenance turnaround time and supporting the reliable application of the adjustment.
User interface and operation
The intuitive Graphic User Interface (GUI) has individual control tabs for each major system function, making Helitune's Rotortuner products easy to use. The GUI uses easily recognisable icons throughout, to create a standardised interface for all international versions. Flitepad has a sunlight-readable, high contrast colour display with user brightness control and a glove-compatible touch screen.
Image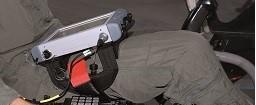 Optional - Leg Strap for secure retention of Flitepad
Image
                                     Optional - Glove compatible touchscreen operation
Flitepad has a range of interfaces for in-flight and desktop connectivity. Flitepad operates directly from +28VDC aircraft power with an internal battery providing 2 hours (4 hours optional) of endurance when aircraft power is not available. A range of accessories is available including a carry handle, shoulder strap, leg strap, and ruggedised memory stick.
Image

                                Helitune RT-6 USB memory stick for data backup or transfer
Image
                                        Helitune Flitepad with detachable thermal printer module
Product Specification
| | |
| --- | --- |
| Display | 8.4" 800 X 600 TFT touchscreen, 800cd/m2 typical |
| IP | IP 65 standard (IP 20 for printer)  |
| Shock Resistant | 1m drop onto concrete |
| Processor/Memory | Intel® Atom™ E3930 1.6Ghz 4GB DDR3 Memory |
| HHD | 32GB (Solid state) |
| Wi-Fi | Optional (switch-activated when included)  |
| Power Input | 10-36V DC (MIL-STD-704F) |
| Rugged AC Power Supplies Available | Yes |
| Battery Type / Life | Lithium-ion 2hrs (4hrs optional) |
| Operating System | Windows 10 Embedded (Option for Linux, QNX) |
| Interfaces | USB 2.0 (x3), Gigabit Ethernet, RS232, RS422, RS485 |
| Size | 258mm x 179mm x 53mm (without printer) |
|   | 258mm x 218mm x 105mm (with printer) |
| Weight | 1.9Kg (Flitepad only) |
|   | 0.6Kg (Flitepad printer) |
| Qualification |   |
| EMC | RTCA/DO-160G |
|   | EN61000-6-3:2007+A1 2011 |
|   | EN61000-6-2:2005 |
| Environmental | RTCA/DO-160G |
| Operating Temperature | -20°C to +55°C (line power) |
|   | -10°C to +45°C (battery power) |
| Storage Temperature | -40°C to +70°C |
Rotortuner Upgrade Path
Image