Ancillary solutions
Helitune's range of ancillary equipment includes a backup power supply solution for portable 28V instrumentation. Additionally, Helitune offers a wide array of bespoke fixtures, brackets, mountings to securely retain its equipment.
Hardware products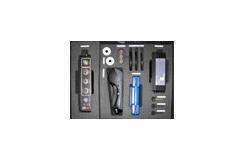 Aircraft Interface Kit
To assist the maintenance engineer to respond swiftly to the need for routine checks or diagnose vibration reports.
RT-Backup
The RT-Backup is a rugged, lightweight, portable 28V DC power source and 28V DC voltage regulator.